Tryout Registration
---
Hello Parents of PeeWee, Bantam & Midget Players,
The online registration for the 2019-2020 Canadian Athletic Club
PeeWee, Bantam and Midget Tryouts will open June 1
*IF YOU ARE TRYING OUT FOR MIDGET AAA PLEASE USE THIS LINK

TO BE DIRECTED TO THE MIDGET AAA HOCKEY EDMONTON SITE*
---
Please use the Registration for Tryout button On this website
and you will be redirected to the Hockey Canada Registration site.
If you are new to Edmonton or did NOT play NWZ, Whitemud West or Hawks Athletic Club
you will have to call Betty at 780-499-4148 to register
All past CAC, NWZ, Whitemud West and Hawks players can register using the following link
Click Here for Tryout Registration
Tryout Fees for the 2019 - 2020 season are as follows:
PWE Tryout Fees - $100.00
BTM and MGT Tryout Fees
$250.00 up until July 15th, 2019
$350.00 after July 15th, 2019
Click Here for Tryout Registration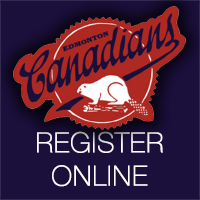 *For Midget players wanting to tryout for Midget AAA please do not register for CAC Tryouts. See the Hockey Edmonton Midget AAA pages*
IF YOU ARE EXPERIENCING TROUBLE REGISTERING FOR TRYOUTS
PLEASE CONTACT THE CAC REGISTRAR BETTY CHMILAR
SO THAT THE CANADIAN ATHLETIC CLUB CAN BE ADDED TO YOUR HOCKEY CANADA PLAYER PROFILE
OR
FOR MORE INFORMATION ON THE REGISTRATION FOR TRYOUTS PLEASE CONTACT
BETTY CHMILAR @ registrar@cac-hockey.com
780-499-4148
YOU CAN FOLLOW US ON TWITTER OR FACEBOOK FOR IMMEDIATE UPDATES
IF YOU HAVE QUESTIONS OR CONCERNS ABOUT TRYOUTS PLEASE CONTACT GLENN ROSSMANN
CANADIAN ATHLETIC CLUB ARENA
14640 142 ST. NW
EDMONTON AB
---
Please note that per Hockey Edmonton's directive, all families must complete or recertify with the Respect In Sport on-line course prior to the start of tryouts.
Click here to go to the Hockey Alberta Respect In Sport website. Select "Take Program" from the top menu.
Click here to read more information about the Respect in Sport Program.
Print your Respect In Sport Certificate and bring it to the first tryout skate.
For more information call the Registrar Betty Chmilar at the CAC office at 780-499-4148
Pee Wee Player Information Night
Our PeeWee Player Information Night and skate held in early April every year.
In the meantime, if interested Click Here for a typical year at CAC.
If you have any questions about playing at CAC, please call the CAC office at 780-439-3636.
QUESTIONS ABOUT THE TRYOUT PROCESS? Please contact us at the CAC Office or HOCKEYPROGRAM@CAC-HOCKEY.COM